7th Toronto Regiment, Royal Canadian Artillery Band
History of the 7th Toronto RCA Band
Although the 7th Toronto RCA Band was not actually formed under this name until 1922, the history of artillery bands in Toronto goes back much further than this.
In the mid 18th Century, Canadian military bands modelled after those in Britain were already performing in parades, mess dinners, military ceremonies, and public concerts. Articles referencing what was previously named the Toronto Garrison Artillery Band dated back 1882.
They performed in venues such as the Toronto Industrial Exhibition as early as 1883 – today, it is known as the CNE. During this period, the band was privately funded by Artillery officers, with funds generated through concerts. World War II saw the majority of band members enlisting in the armed forces and the band ceased operations. During this period the Weston Silver Band (still active today!) became the official band of the Canadian Field Artillery. While the Artillery Band continued to represent the 7th Toronto Regiment, the 53rd Battery, which was undergoing mobilisation training, continued to make music on its own. There is some historical documentation that in the 1950s the 42nd Medium Regiment, RCA, hosted a reserves women's band, pointing to some of the early history of women's participation within Toronto area military bands.
Our unit's march is The Voice of the Guns (1917) composed by Kenneth J. Alford.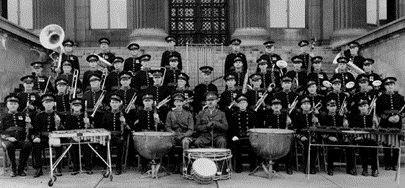 ---
Meet the Band Leadership Team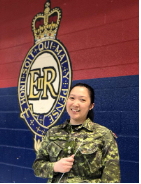 Lieutenant Carina Lam, C.D. Introducing our new Director of Music, Lieutenant Carina Lam, C.D. Lt Lam transferred to 7th Toronto Regt RCA from the Royal Hamilton Light Infantry, 31 Canadian Brigade, where she served for over 14 years as a musician. A graduate of Wilfrid Laurier University and the Royal Northern College of Music (UK), she studied minor conducting under the tutelage of Dr. Jessica Kun and Mark Heron. She also studied with Capt Francois Dorion and participated in masterclasses by Timothy Reynish, Dr. Paula Holcomb, and Dr. Mark Scatterday.
Master Warrant Officer Darrin Hicks, C.D.
MWO Darrin Hicks is the Band Sgt Major, and has served in the Canadian Forces Reserves for over 40 years. In 1989, he picked up a trumpet and has been performing in military bands ever since. Darrin has held the appointments of Band Sgt/Maj and Regimental Trumpet Major with the GGHG, as well as Band Sgt/Maj and Drum Major with the 7th Toronto Regiment RCA. Darrin is the Principal Trumpet with the Toronto Community Orchestra, Flugelhornist with the Whitby Brass Band, Baritone with the Upper Canada Brass Band, Lead Trumpet with the Harmonie Brass Showband, and has performed with the Juno Award winning rock band, Glass Tiger.
---
Meet the Musicians
Flute
Bdr (ret) Doriann Forrester, C.D.*
2Lt Alice Li (32 CBG)
Bdr Aria Singh
Clarinet
Sgt David Marshall*
Capt (re) Nick Arrigo, C.D.
Mscn Shelly Glass
Mscn Eric Lee
Mscn Abner Liu
Mscn John Walker
Saxophones
Pte (B) Devon Symonds*
Mscn Ann Arrigo
Mscn Nikita Naymushin
Mscn Samantha Roman
Horn
Bdr Amy Hathaway, C.D.*
Sgt (ret) Trish Beck, C.D.
Bdr Joanne Yin
Trombone
Bdr John Dewhirst*
Bdr (ret) David Archer, C.D
Cpl (ret) Ellen Lichman, C.D.
WO (ret) Philip Trow, C.D.
Euphonium
Mscn Bob Phillips
Mscn Carling Pang
Mscn Lionel Stanway
Tuba
Bdr Nic Dennison*
Pte (R) Tony Luo
WO (ret) Ray Woodhams, C.D.
Bass
Bdr Sarah Wu
Percussion
Bdr John Smith, C.D.*
Mscn James Price
Pte (R) Jeffrey Zhu
Trumpet
MWO Darrin Hicks, C.D.**
Sgt Suraj Rajkumar, C.D.*
Bdr Daniel Barak
Pte (R) Justin Couto
Mscn Anneka Geddes
Mscn John McGregor
** Band Sergeant Major
* Section Leader