Honorary Colonel Brigadier-General Ernie Beno, OMM, CD
Honorary Colonel
2013-2017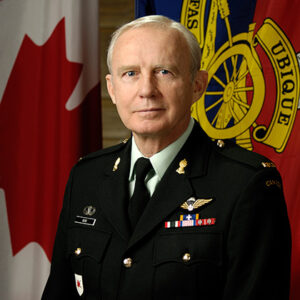 Brigadier-General Ernest (Ernie) Beno OMM, CD, began his military career when he enrolled as a Gunner with the 42nd Medium Regiment, RCA in 1960. Having served two years as a young reservist, BGen Beno transferred to the Regular Force and was posted to the 2nd Regiment of Royal Canadian Horse Artillery (2 RCHA) in Winnipeg, Manitoba.
Commissioned as an Officer two years later, BGen Beno served six years with the 1st Regiment of Royal Canadian Horse Artillery (1 RCHA) in Gagetown, New Brunswick and in Germany. His Regimental duties have included; Gun Position Officer, Command Post Officer, Forward Observation Officer and Regimental Command Post Officer. BGen Beno subsequently completed the British Army Instructor-in-Gunnery Course at Larkhill, United Kingdom and was employed as a Gunnery Instructor at the Royal Canadian Artillery School.
BGen Beno has held numerous command appointments throughout his career; they include: Battery Commander of the 1st Airborne Battery of the former Canadian Airborne Regiment, Battery Command of 'E' (Para) Battery 2 RCHA, Base Commander and Deputy Commander of the Special Service Force of CFB Petawawa and Commander of Special Service Force at CFB Petawawa.
Other appointments were Directing Staff and Deputy Commandant of the Land Forces Command and Staff College (Kingston), Director General Reserves and Cadets (Ottawa), and Director General Military Personnel (Ottawa). He retired from the Canadian Armed Forces in 1997 at the rank of Brigadier-General.
On 15 September, 2007 BGen Beno assumed the appointment of Colonel Commandant, The Royal Regiment of Canadian Artillery.
In 2014 he became the Honorary Colonel of the 7th Toronto Regiment.  During his appointment he oversaw a renewed communication stream between the active Regiment, the Association, the local community and the Army at large.  He was also instrumental in bringing new initiatives to the Toronto Artillery Foundation of which he was the chairman.  One of his last acts in uniform was accompanying members of the Regiment to France for the 100th Anniversary of the Battle of Vimy Ridge.  He retired from this position on 22 May 2017.
General Beno holds a Bachelor in Business Administration (BBA) from the University of New Brunswick, 1978-80, and a Masters of Public Administration (MPA) from Queen's University, 1987-90. He has been awarded the Order of Military Merit, and the Canadian Forces Decoration.
General Beno and his wife Mia live in Kingston, Ontario
v.2017