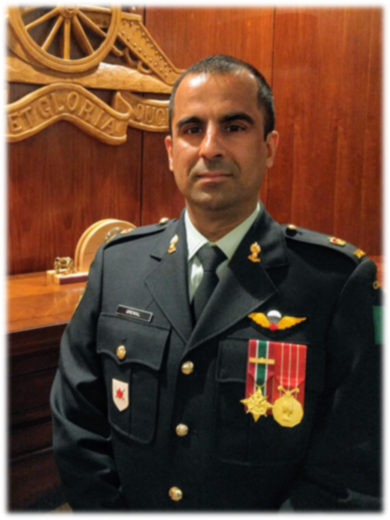 LCol N.S. (Nav) Grewal
Commanding Officer
2018-2021
Lieutenant-Colonel Nav Grewal was born in North York and is the older of two children.  His younger brother, who recently retired from the Regular Force, is three years his junior.  Major Grewal's parents immigrated to Canada from Kenya (father) and India (mother) in 1977, where his father began work in the information technology field, and mother took further schooling.  LCol Grewal completed a Bachelor's of Science from the University of Toronto (2002), and later enrolled in Seneca College to pursue a diploma in Civil Engineering Technology (2006). 
LCol Grewal's full-time career is as a Civil Engineering Technologist with a private civil engineering consulting firm in Markham. He is the Technical Manager for the design department in the Industrial, Commercial and Institutional division in the Urban Development group.
LCol Grewal joined 7th Toronto Regiment in 2001 as an Officer Cadet in the Reserve Entry Scheme (Officer) program, and has worked through all artillery field positions within the unit.  Additionally, he completed the airborne course and provided support to the Queen's Own Rifles jump Company as their Forward Observation Officer.  He was fortunate to take part in D-Day ceremonies in France with a group of military parachutists, where they completed a commemorative jump onto a drop zone near Juno Beach.  Prior to assuming command in 2018, he was the Acting Commanding Officer as the CO was deployed overseas.  Prior, he was the Regiment's Second-in-Command.  LCol Grewal has also served as the BC for 9 Battery, BC 15 Battery and as BC for 130 Battery.  He thoroughly enjoyed being able to steer the training of a Battery and to try different training aims and objectives.  Prior his position as BC9, he was posted with D Battery, 2nd Regiment, Royal Canadian Horse Artillery, as the Surveillance and Target Acquisition (STA) Troop Commander and the Battle Group's Information, Surveillance, Targeting, Acquisition and Reconnaissance (BG ISTAR) Coordination Centre Officer for Task Force 1-10 (1st Battalion, Royal Canadian Regiment BG), Kandahar, Afghanistan.  In this position he was responsible for coordinating the ISTAR resources that were available to the BG (ie, persistent surveillance systems, Reaper, Predator and Heron UAVs, airborne reconnaissance, fast air etc…) and planning ISTAR coverage for specific operations and daily standing surveillance tasks.  He worked with Task Force Kandahar and multi-national forces who operated the surveillance platforms and targeting. 
LCol Grewal also took part in current operations and coordinated dynamic targeting and joint fires through the Tactical Operations Centre. During his time with D Battery, he completed several courses, which included Light Armoured Vehicle (Observation Post Variant), STA Troop Commander, Fire Effects Coordination Centre Officer, Close Combat Attack and various others. The experience Major Grewal gained from his time with 2 RCHA and subsequent tour was very enjoyable and extremely fulfilling.
LCol Grewal's term as Commanding Officer saw him lead the regiment through several Aid-to-Civil Authority requests. This included the CF and whole of government response to the COVID-19 Pandemic through Op LASER, where he himself also deployed as a local Liaison Officer. During his term LCol Grewal deployed soldiers on Op LENTUS on several occasions for flood relief in Ontario and Quebec. The Regiment also opened its doors to some of Toronto's neediest during a particular cold January and February which saw the Regiment parade for several months out of Dennison Armoury. LCol Grewal, as CO and a/CO was instrumental in building 7 Toronto Regiment's Light Urban Search and Rescue (L-USAR) capability to 4th Canadian Division.
LCol Grewal handed over the Regiment to LCol John Dean in September 2021. He is now working as Directing Staff at the Canadian Army Staff College in Kingston.
During his free time, LCol Grewal is an amateur woodworking, where he designs and builds fine furniture. His projects include bookcases, media cabinets, sideboards, tables and a kayak; he hopes to one day build a cedar-strip canoe. In the coming years, he plans to develop his metal working, welding and iron forging skills. Major Grewal is a motorcycle enthusiast and enjoys tearing it up on his Harley Davidson. Some of his favourite Google Play playlists include 'Chill Pool Party', 'Dusty Springfield Radio', 'Retro Cocktail Party' and 'Space Age Bachelor'.
V. 2022