Lieutenant-Colonel James R.M. Hubel, CD
Commanding Officer
1975-1979 & 1992-1993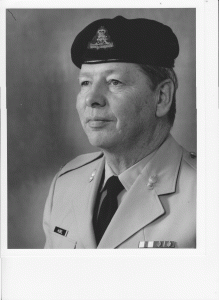 Lieutenant-Colonel Hubel was born in Cornwall, Ontario on 6 April 1938. He completed his education at Stirling High School (Grade XIII), Peterborough Teachers' College, Queen's University (B.A.) and the University of Toronto (M.Ed.).
He began his military career in 1955 as a Private, later Lance Corporal (Paid), in the Hastings & Prince Edward Regiment. In 1961 he enrolled in 29th Field Regiment (Self Propelled), Royal Canadian Artillery as a Provisional Second Lieutenant. During the years 1961-74 he assumed nearly every regimental appointment in the amalgamated 7th Toronto Regiment, RCA. In 1975 he was promoted to Lieutenant-Colonel and appointed Commanding Officer completing that appointment in 1979. In that year the regiment gained the distinction of winning second place in the national artillery firing competition, the highest indicator of operational readiness. Thereafter, Lieutenant-Colonel Hubel served at Toronto Militia District Headquarters, commanding in successive summers of 1980 and 1981 the 700 strong Student Employment Program in Toronto/CFB Borden, and in 1982 the National Rank Qualifying School (Artillery) at CFB Shilo, Manitoba. In the fall of 1982 Lieutenant-Colonel Hubel became a member of the Directing Staff at the Militia Officer Training School in Toronto and was its Director from 1985-91. In the fall of 1991 he was appointed Senior Staff Officer Artillery at Land Force Central Area Headquarters. In 1992-93 he returned to 7th Toronto Regiment as Commanding Officer for the second time, completing his thirty-sixth and final year of active military service.
Lieutenant Colonel Hubel was President of The Royal Canadian Artillery Association in 1985 and was its national secretary from 1994-2002. On 1 February 1999 he was appointed Honorary Lieutenant-Colonel, 7th Toronto Regiment, RCA. Effective 10 March 2005 he was appointed Honorary Colonel, 7th Toronto Regiment, RCA completing this duty on 10 March 2009, his 46th year of service  in the Canadian Army Reserve.
Now retired from his civilian and military careers, Colonel Hubel is a former elementary school principal with the Scarborough Board of Education. He was a principal/vice-principal of nine different schools including junior elementary, senior elementary and French Immersion schools. Close ties with the Children's Breakfast Club and Meals on Wheels were forged at his last school – John McCrae Senior Public School.
Colonel Hubel is married and his family includes his wife Irene and adult children, William, Donald and Leslie. James and Irene are members of St. John's Norway Anglican Church.  He remains active with the Royal Canadian Legion, Veteran Advisory Committee at Sunnybrook Hospital, as well as the Sunnybrook Comfort Fund.
Awards:
4 September 2007.ViceRegal Commendation presented by Lieutenant Governor James Bartleman.
19 September 2003. Colonel Commandant's Commendation presented by Major General J.A. MacInnes, CMM, MSC, CD
Community Volunteer Services Award 2016, presented by Premier Kathleen Wynne, M.P.P.
19 May 2016 Minister of Veteran's Affairs Commendation, presented by General (retired) Walter Natynczyk, Deputy Minister