LCol Paul A. Szabunio, CD
Commanding Officer
2012-2015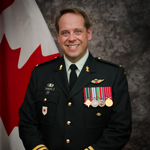 Lieutenant-Colonel Paul Szabunio, son of a decorated World War II veteran, followed his father's footsteps to join the Guns in 1985 via the Regular Officer Training Programme. He studied at Royal Roads Military College, Victoria BC, graduating with a University of Alberta BSc. Civil Engineering in 1992.
LCol Szabunio deployed with 2 PPCLI Winnipeg's Battalion Operations Cell with the UN(Balkan) in 1993. The unit served with distinction, receiving an UNPROFOR Commander's Unit Commendation, and Canadian Commander-in-Chief Unit Citation in 2002 for its actions in the Medak Pocket.
In 1995 he volunteered to redeploy with 1 PPCLI at MTC Dundurn, finishing as its top officer candidate. He was appointed Mechanised Rifle Troop Commander for OP HARMONY ROTO 7 with "A" Battery, 1st Regiment, Royal Canadian Horse Artillery. When the deployment was cancelled, he returned to LFWAHQ.
In 1996 he left for civilian opportunity in Poland with Lear Corporation. He later helped Swedish airbag manufacturer, Autoliv, accomplish similar results and gain his Professional Engineer accreditation. In 2001 he worked with Habitat for Humanity Poland to create and implement a business development plan to strengthen its regional viability.
In 2003 he obtained an Ivey MBA (strategy/finance) at the University of Western Ontario, and co-developed curriculum and taught business and leadership skills at universities in Belarus and Siberia. He co-founded a healthcare and biotechnology-consulting firm, and joined 7th Toronto Regiment RCA in 2004. In 2008 he was hired by the Canadian Forces College (CFC) Toronto as its Strategic Finance Officer.
LCol Szabunio deployed with 10th (US) Mountain Division as the Regional Command (South) HQ Afghan National Police (ANP) Training Development Officer in 2011. He has been the 32 Brigade Group Domestic Response Unit's operations officer and has served in Airborne Gunner roles, holding his Canadian and American Army jump wings. In 2010, he commanded a rifle company for OP CADENCE. He assumed command of 7th Toronto Regiment in 2012 and ended his tenure of command in late 2015, and is currently a Directing Staff member for the Primary Reserve AOC at the Canadian Army Command and Staff College, Kingston.
In his recent civilian career, LCol Szabunio has been the Strategic Advisor to the CFO at Ontario's Workplace Safety and Insurance Board, and is presently Vice President Operations for Egan Visual Inc., a leading designer and manufacturer of visual communication systems. He lives in Toronto with his wife Anna, son Hudson, and is predeceased by his firstborn son Eadgar.
v.2017