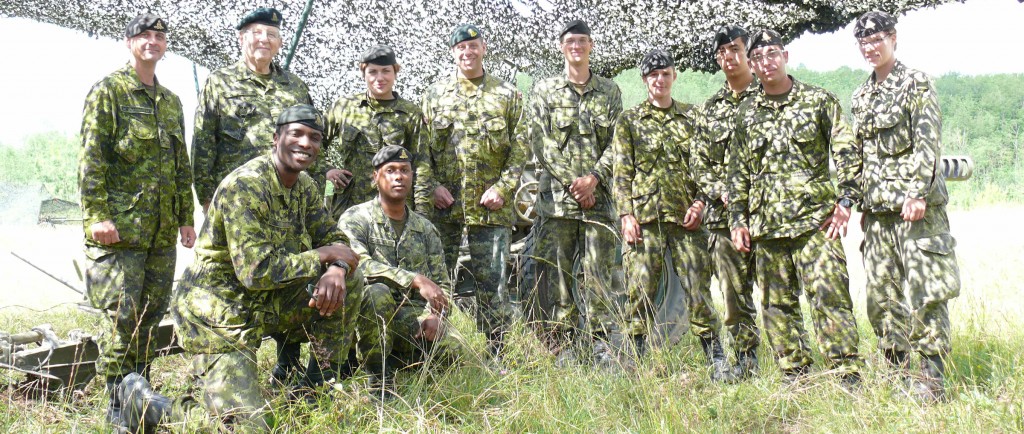 Ready for Something More? Become a Gunner
What We Do
As a member of the Reserve Force, you serve on a part-time basis. That means 'Parading' with the Regiment typically one or two evenings a week and taking part in training exercises on one weekend per month. You may also be asked to fulfil the Regiment's other roles; for example, the 7th Toronto Regiment, RCA, as Toronto's sole reserve artillery unit, is responsible for providing all ceremonial gun salutes at Queen's Park and other locales.
As a Combat Arms unit, the Regiment employs:
Artillery Soldiers

Artillery Soldiers use indirect fire to engage the enemy and forms a vital part of the Combat Arms, which include the Infantry, Armour, and Combat Engineering. As members of the Royal Regiment of Canadian Artillery, the primary responsibilities of an Artillery Soldier include:

Position, operate and maintain our 105mm C3 Howitzers and 81mm Mortar Systems
Provide fire-support advice to our Supported Arms – the Infantry and Armoured units
Use and maintain the C7A2 Service Rifle, the C9 and C6 machine-guns and other personal and section-level weapon systems
Operate technically advanced survey equipment and command post computers, including radios, laser range-finders, fire-control equipment
Operate and maintain heavy vehicles, Forward Observation Post equipment and other surveillance and target acquisition equipment

Artillery Officers

If you are a university graduate or is currently enrolled in a 4-year degree program, you may be eligible to join the Regiment as a commissioned Officer with the rank of 2nd Lieutenant or as an Officer Cadet to be commissioned upon graduation.

Artillery Officers in the 7th Toronto Regiment provide indirect fire support to the Supported Arms. Most importantly, they lead their soldiers to successfully complete their mission. Artillery Officers are technically proficient, flexible, and are determined leaders.

You will learn to become proficient at operating a variety of technologically complex equipment as artillery demands technical proficiency in order to fulfil our role in providing accurate, timely and effective indirect fire support. Although artillery encompasses Field Artillery, Air Defence, and Target Acquisition, the 7th Toronto Regiment is a Field Artillery unit. Therefore, upon completion of your training, you will initially be assigned as a Gun Troop Commander leading approximately 30 soldiers and 2-3 105mm C3 Howitzers
How Long Do I Have to Serve?
Serving in the Reserve Force is voluntary and for an undefined period. As part-time soldiers, you may, in most circumstances, release from the Canadian Armed Forces at any time. Most of our soldiers have full-time careers outside of the military and serve in the Regiment on a part-time basis or serve full-time on a limited basis by contract.
What are the Benefits?
Pay: As a reservist, you'll receive pay to train for at least four evenings and one to two weekends per month between September – June at 85% of Regular Force rates of pay. You'll also be paid to attend basic training, part or full-time.
See http://www.forces.gc.ca/en/caf-community-pay/ncm-class-a-b-service-rates.page for rates of pay.
Education & Training: Reservists who are pursuing a degree or diploma at a University or College may receive up to 50% reimbursement of education expenses up to $2,000 per year, not to exceed $8,000 in total.
Where Do Your Soldiers Come From?
Our Officers and Non-Commissioned Members (NCMs) come from all walks of life here in Toronto. For example, just about all major universities and colleges in the GTA are represented in the Regiment; many soldiers will attend their educational institutions full-time during the school year while working in the Regiment on a part-time basis and work full-time in the military during their summers. Members of our Regiment currently include:
University/College Students
School Board Trustee
Toronto Police Service/Peel Region Police Force Members
Lawyers
Business Owners/Managers
Stage Crew
Canada Border Services Agency Members
Financial Services
Members take pride in representing all aspects of Canadian life within the Regiment; we come from all walks of life but are united in our desire to serve in the Canadian Armed Forces and seek to be valued members of the communities we live in.
Basic Requirements to Join
Be a Canadian Citizen
Be 17 years of age, with parental consent, or older
Meet minimum education requirements for your desired occupation; may vary from Grade 10 to admittance or completion of a 4 year University degree.
Meet basic fitness requirements. During your recruitment process, you will be tested for your fitness.
What's Next?
Call us at: (416) 635-4440 Ext: 4879 or (416) 635-2763 to find out what jobs are available and to arrange to visit us in person on Monday nights (September – June) after 7:30 p.m. to find out what we do at:
Moss Park Armoury
130 Queen St. East
Toronto ON
M5A 1R9
If positions are available, the Regiment will work with you and the local Canadian Forces Recruiting Centre to process your application. The Canadian Forces Recruiting Centre for Toronto is located at:
4900 Yonge Street
Toronto ON
M2N 6A4
(416) 635-4490
During your recruiting process, you will be required to complete:
Physical Fitness Testing
Aptitude Testing
Assessment Interview
Security Screening
Medical Screening